The charts are a new feature of the Heavens-Above satellite predictions web site which show the path of a satellite against the star background. The charts make it much easier to spot a satellite, especially one of the dimmer ones, because the observer knows exactly when and where to look for it. It's even easy to pick up satellites that aren't visible to the naked eye using binoculars.

The chart page is reached from one of the pass summary pages, and the first chart the user is presented with looks like the following;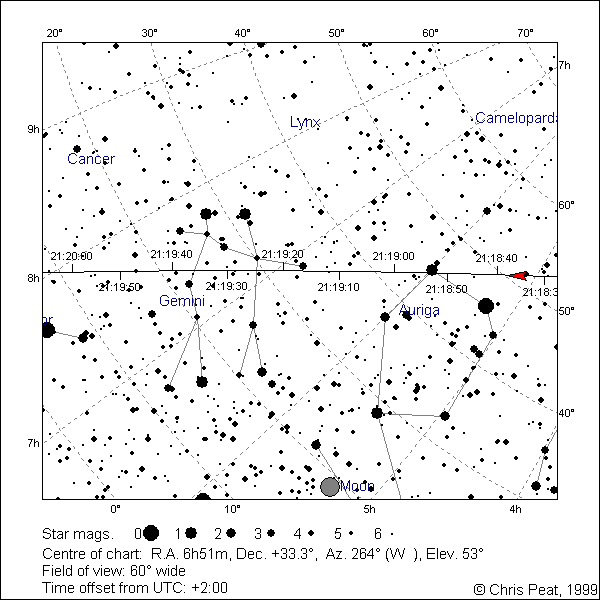 This chart has a 60° field of view (FOV) and is useful for first spotting a satellite. The chart is initially centred on the point of maximum elevation, and shows the track of the satellite against the stars. Time ticks are included so the observer can anticipate exactly when the satellite will pass through a particular star patern. The times are given in local time and NOT UTC. The well known constellations are shown, as well as the planets and the moon. All stars down to magnitude +6.5 are shown, and since the naked eye can only see stars to about mag. +6.0, even under the best conditions, you will need binoculars to see all the stars in the charts. The grid lines show the Right Ascension and declination, which is a coordinate system used to measure positions on the celestial sphere. They are similar to longitude and latitude on the earth's surface.
Clicking anywhere in the border of the chart will load a new chart centred on the point where the mouse was clicked. This new chart will have the same FOV as the original, so you can move quickly along the satellite track. If the user clicks within the chart itself, a new chart will be loaded with a 20° FOV, and centred on the point where the mouse was clicked. This chart shows a much smaller portion of the sky, but allows observations to be planned and plotted more accurately. Only one level of zooming is possible at present, and clicking within the detailed chart simply moves the centre of the FOV. Below is an zoomed chart close to the centre of the previous one.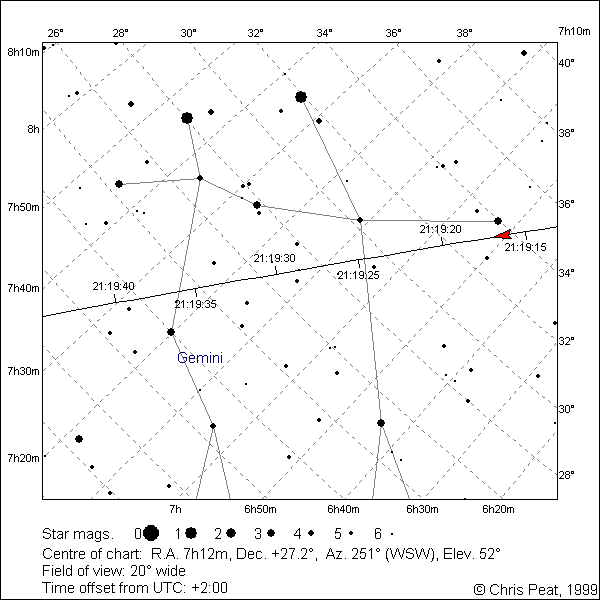 ---
Developed and maintained by Chris Peat, Heavens-Above GmbH
Please read the updated FAQ before sending e-mail.